How Much Does an App Cost to Make?
Interactive Apps for iPhone, iPad and Android
"How much does it cost to build an app?"
It's a common question and we get it a lot. The answer, of course, is that it varies. The complexity of the app and the number of targeted device platforms are key drivers that affect cost. For example, having an app that is completely standalone for a single platform will be significantly cheaper than one that requires a back-end database and social media connectivity for several device platforms.
Media Dynamics can develop simple apps for one platform that start at under $9,000.
Prices for app development vary significantly based on many factors. Let's take a look at the steps involved in the app development process to see where your budget is being allocated.
The following budget breakdown is based on development of a simple standalone app for a single platform, such as a product presentation app with photos and videos or a simple product estimator app. It is the starting point for a basic app and does not include an special features or functionality, which can be estimated separately (see examples). This estimate uses rates typical of mid-sized cities in the Midwest market with all steps being performed locally, in the U.S.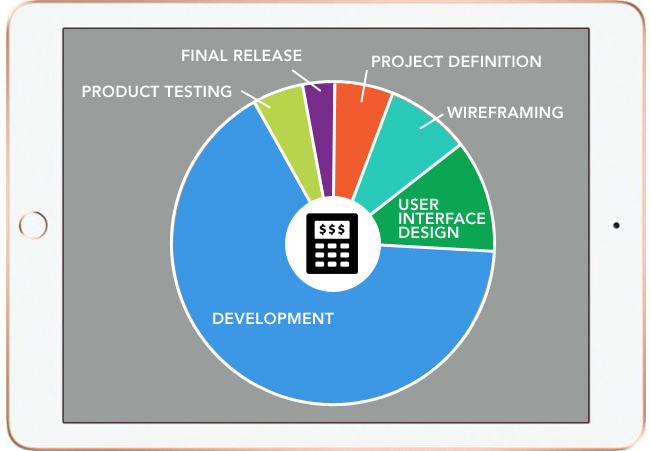 1.Project Definition 
Cost $600+
This is the first step in the app development process in which you organize your app idea into a concise framework that achieves your objectives in an effective manner. This step also consists of defining the scope and requirements (such as: must be available for offline viewing, or must work on a specific tablet) of the interactive app as well as the target audience and devices that the app will need to run on.
Develop your Project Definition before meeting with a developer and focus on what would be acceptable as a minimum viable product (a finished acceptable product with the fewest features)
Building the first version 'fully featured'
Specifying too many platforms in the first release
Bringing in too many non-stakeholder opinions
2.Wireframe / Navigation Flow 
Cost $750+
Create a blueprint of the screen-by-screen flow of the app. To do this, envision how users will interact with the app. Create a navigation system and determine links between screens to create a seamless interactive experience for the end user.
Group content into categories or topics ahead of time
Be sure to include all the necessary features that need to be built into the first release of your app
Not having content organized
3.User Interface Design 
Cost $1,000+
The graphic designer will establish an attractive, easy to navigate interface, that adheres to your brand guidelines. They will also develop any custom graphics necessary for the program. UI/UX design is the look and feel of the functional elements of the app like menus, navigation, media, etc.
Re-use, but freshen up existing graphics and templates to save money and build brand consistency
Spending time wanting to "see different ideas" or designing an entirely new look and graphics library
4.Development 
Cost $5,750+
This is the process of building and integrating all the functionality and requirements within the interface as well as adding all media and animation. This "Coding" process is where the bulk of the expense of an app is spent. First a stripped down version is created (for instance a home page with one menu item linking to a subpage) for approval. Then a fully coded  beta version is developed for testing on the target platform.
Stick to the plan. New ideas should be tabled for a future update, unless absolutely necessary
Missed deadlines
Scope creep
On-going changes
5.Product Testing / Debugging 
Cost $500+
Testing and debugging the app on the target platforms to ensure your app performs up to its specifications under a variety of conditions.
Minimize the platforms specified for first release to only the essentials
Changing basic functionality, sending the process back several steps
6.Final Release 
Cost $250+
Your final app is delivered and assistance is provided to help with deployment via download or through the appropriate store.
Know ahead of time how you want to distribute the app
Changing basic functionality, sending the process back several steps
Add-on Features and Functionality
Keep in mind, YOUR actual program features and costs will be different. This is merely a starting point to provide familiarity and get you in the budgeting ballpark. Here are some examples of additional features or add-ons that increase the complexity and price of your app.
Login – A layer of security or the ability to create and track users

3rd Party connectivity – The ability to connect to anything outside of the app itself. This may be a website, social media, drop box, a CRM or any kind of back end database

Back end Data storage – on and offline storage of information or media or customer data collected by the app

Analytics – the ability to track usage of your app: how it is being used, for how long and by whom, etc

Multiple Platforms – expanding the specifications of your app to multiple operating systems (Apple iOS, Android, Windows, etc.) and/or form factors (tablets, phones or desktops)

GPS location – tracking the users location, speed, or route traveled
Distribution – Your app can be deployed through the various stores, or be distributed internally from a corporate server or simply downloaded as a web app

E-commerce – selling products or any type of in-app purchasing

Fulfillment – choosing digital content from the app to email to yourself or others

Gaming – any type of interactive timed or scored exercise

Mapping – adding scrollable, zoomable, interactive maps
Contact Us
Get in Touch...
Contact Milwaukee-based app developer Media Dynamics to find out how we can help you build YOUR app
Contact Us